IF YOU ARE SCARED, READ ME.
I remember the night before Day 3, Cardio Core, when I was doing 80 Day Obsession for the first time. For whatever reason, I was nervous. Out of all the workouts during the week, Cardio Core was the one that had me wondering if I would be able to finish the workout. Or, really, wondering if I would be able to finish the workout without puking up my guts.
I think it's because of the name: "Cardio Core" sounds like something you will barely survive, whereas "Cardo Flow" brings to mind some sort of fast-paced yoga.
I remember I even had butterflies before I hit play for the first time.
But, I did it. And I finished the workout. Barely.
And while the workout was hard, I didn't die. As Autumn reminds us halfway through: "I'm not going to kill you!"
Here's the dealio. Cardio Core is made up of, I believe (I can't remember for sure – it's been a long day) 5 rounds. Each round consists of 3 one-minute sets. Each one-minute set is comprised of 30 seconds of some sort of jumping plyometric that mimics a jump rope, followed immediately by 30 seconds of a high intensity interval training (HIIT) exercise. You do the three sets without any rest. Then after your third set, you go immediately into an ab exercise of 10 reps that use the sliders. The sliders look like this: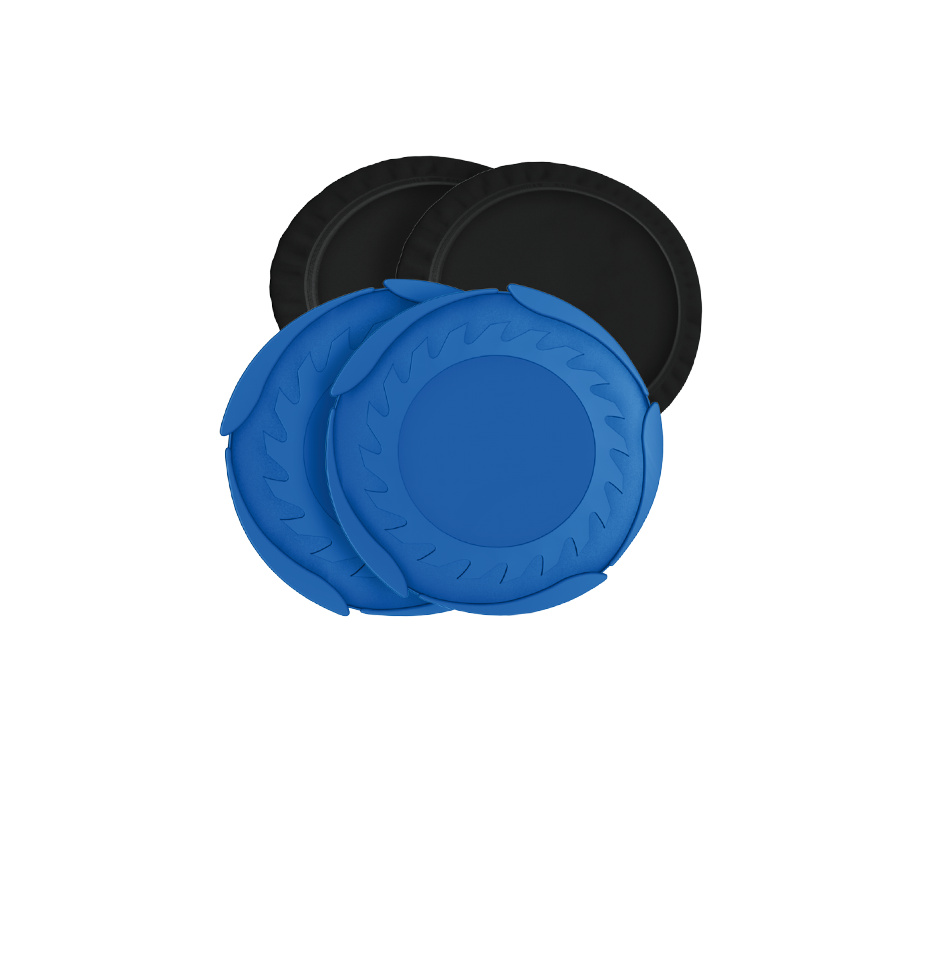 After you get through the 5 rounds, you immediately go through and do all the ab exercises in a row, 10 reps for each exercise.
If you are still reading this and I haven't scared you away yet, great! Because here's the best part:
The first time doing Cardio Core, Autumn gives you, on average, 30 seconds to rest.
This does not mean the workout is easy. Far from it. But what this does mean is that the exercise is absolutely DO-ABLE. Again, they got the pacing on this exercise just right, because just when you think you can't carry on, you get 30 seconds to catch your breath.
My first time, I needed every bit of those 30 seconds. And even then, it wasn't until I was on Week 4 of Phase 1 that I was able to make it all the way through the workout without hitting pause. What killed me most were not necessarily the HIIT intervals or the jumping, but rather, the ab exercises.
See, with the jumping and HIIT, you can modify if you get super tired. You can either step it out or slow down. But with the ab exercises, you either keep up or get left behind. And it took me 4 weeks to not…I won't say keep up (because that took another month), but at least, not get left behind.
ALSO, PRO TIP #A: IF YOU HAVE A SENSITIVE STOMACH, THIS IS THE ONE DAY WHERE YOU MIGHT CONSIDER LIGHTENING UP YOUR PRE-WORKOUT MEAL.
I was reminded of this in the middle of doing jumping cross-overs today. Because there is so much up and down in this workout, all the contents of your stomach get shaken like a milkshake. Or a salt shaker. Or a tail feather. You get the picture. The end result is that if you haven't allowed yourself enough time to digest, or if you ate a super heavy pre-workout meal, there is a good chance you're going to be making very good friends with your semi-digested foods. So, if you are worried about eating too much, or wondering whether your foods will stay down, this is the one day of the week where I absolutely recommend swapping out the pre-workout meal for the lighter Meal Option 1 (for those of you on the timed nutrition plan, you know what I'm talking about).  Once you know you can make it through with a happy tum-tum, make the switch back. But again, until you know how your body will react, if you are worried about it, proceed cautiously to give yourself every chance to succeed.
I have no good way to segue from stomach issues to the food plan in general, but here goes.
I started this blog because I thought it might be helpful to those Obsessors who come after me who have questions and aren't sure where to look. One question I heard today that I thought a lot about as I went through 80 Day Obsession the first time, was whether the timed nutrition program is sustainable.
This question resonated with me because I had so much success with the timed nutrition program the first time around. My body responds really well to eating before and after workouts, and then eating three meals spaced out 2-3 hours apart after my workout block. And, as is perhaps expected, I (and my body) do very well eating relatively clean. That is, non-processed carbs, lean proteins, and lots of veggies and fruits. One reason 80 Day Obsession works for me is because I respond very well to that structure: Tell me what to eat and when and I am a happy clam.
But where I get into trouble is when I step outside my comfort zone into 3 problem areas: 1) Eating out, 2) Home Baked goods, and 3) Alcohol.
My problem with eating out is portion control: I know the combination of foods I should be eating; the problem is that most restaurants serve double or even triple the portion size I should be consuming. Plus, I was raised to clean my plate. This all combines for disastrous meals out, where I know what I should be eating and how much, but by the end of the meal I'm usually licking my plate and trying real hard to not order dessert.
Which is why, last night, when my boyfriend suggested we eat out to celebrate our last night of freedom before he returned to work today, I resisted. I didn't want to leave my containers and the dinner I knew I had carefully portioned out and waiting for me in the fridge. But then I realized this was the perfect opportunity to see if the timed nutrition program WAS sustainable, and I wasn't going to get any better at this eating out thing unless I actually practiced.
So, we went out. We walked down the street to Mexican food. My choice.
The good news about my choice is that I had gone to the same restaurant in Phase 2 with my parents and bf, and knew the steak fajitas fit perfectly into my red and green containers. I knew this because I brought said containers with me to the restaurant and to my boyfriend's undying horror, then proceeded to separate the meat from the veg into their plastic counterparts. LIke I said, they fit perfectly.
The bad news is that the Mexican food, as per usual, came with a limitless supply of hot tortilla chips and salsa. WHO CAN RESIST HOT TORTILLA CHIPS AND SALSA?!?!?
Still, I took it as a challenge. Could I do this eating out thing AND 80 Day Obsession at the same time?
When we sat down, I allowed myself 10 chips. That was it. 10. (I chose that number because I had it in my head that you get 10 tortilla chips on refeed day, so that seemed a safe number to go with. More on refeed day in a later post!) I guzzled down my soda water with lime so that I wouldn't notice it wasn't a margarita (that didn't work at all, but you gotta do what you gotta do).
And then our food arrived. And I had somehow only consumed 6 chips. Victory!
I didn't have to worry about portioning out the dinner, because I knew it would fit. I did have to avoid the sour cream and guacamole, as delicious as they were, because it wasn't time to have those macros in my diet. But you can bet I ladled on the salsa and enjoyed every bite of my fix-approved Mexican dinner out.
When we finished, I felt something I hadn't felt in a long time, if ever, after leaving a Mexican restaurant: Not gross. Seriously, normally I leave having eaten my weight in tortilla chips and beans and rice. The end result is not pleasant for me in that moment, or anyone within a 10 foot radius a half hour later.
Even better, I had my first answer about the sustainability of the program in the face of one of my weaknesses: I can adapt the damn thing to eating out, but it does take practice and careful planning. And, let's be honest, will power and avoidance.
Those last two strengths will be discussed further when I dive into addressing my other two weaknesses of home baked goods and alcohol. But I think that's enough for tonight.
I hope, if you have made it to the end of this post, you finish it knowing you can do Cardio Core. But if you still have questions or doubts, ask me. Or per the norm, check out the link below for further details on the program.
Love and unicorns,
Katie
https://mysite.coach.teambeachbody.com?coachId=1603264&locale=en_US